REBEL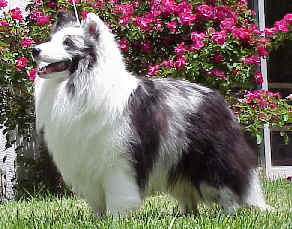 ECHO HILL BI SPECIAL DESIGN
When I attended the Greater Denver Shetland Sheepdog
Specialty in February, I was hoping to find a pretty blue boy to
compliment my tri girl, "Kendall".
As I was standing ringside watching the judging, I looked
up and saw this stunning puppy with an incredible outline. About that
time, a Sheltie friend of mine, who I had not spoken to in several
months, by the name of LeeAnn Glee, came up to me and said," How
do you like my new puppy?" Needless to say, not only was I excited
that this gorgeous boy belonged to my friend, but his pedigree would
compliment my girl's perfectly. He went on to get a 4 point major reserve
that weekend.
We are now currently expecting another litter by this beautiful

boy. More details on our "Latest News" page.